Newsletters
---
LCCC Students Raise Money and Awareness
LCCC students recently hosted a donation drive for Safehouse at King Soopers. As part of a management and supervision course, Jeremy Arneson, Jill Grund, Roseann Sweeney and Amanda Mullins held the drive on Sunday, October 27th. They were tasked with raising $1,000 in supplies and/or money to help provide basic household supplies to victims who are leaving situations of domestic violence and setting up new households.
"In the beginning of the project, we were apprehensive," said Arneson. "Were we going to achieve our goal of $1000 worth of cleaning supplies? By the end of the afternoon at King Soopers, we were happy that we exceeded our goal by raising over $1,700! During the King Soopers collection, we noticed many people had heard of Safehouse. We met people who had used Safehouse before and for any one person who said "No", two people said "Yes". This activity has brightened our belief in human compassion. We believe people want to help others in need. True life experiences also reinforce "giving back to society." We were very appreciative, also, for the elderly people who are on a limited income, donating $1. We were also extremely amazed and humbled that afternoon. Humbled, from this point on we will support any fundraiser. Even if it is just one dollar, it all adds up in the end. When you donate, you are helping those that are in need."
---
---
Celebrity Waiter Dinner 2013 Brings Out All the "Stars!"

Amy Peterson, Jordan Castaneda and Allee Mowl- a.k.a. "Adele," "Magic Mike" and "Emma Stone" entertained as waiters once again.

Thirty-one good sports served as "celebrity waiters" to make this event successful and raising $35,000 for Safehouse.

Governor Matt and First Lady Carol Mead pay a visit to the red carpet as well and meet Fred Astaire and Ginger Rogers --Mayor Rick Kaysen and his wife Diane.

Rep. Kathy Davison, Lincoln County, tells the story of her pregnant daughter who was murdered by her own husband in 2009 and the laws that were subsequently passed.
---
Celebrity Waiter Dinner
Friday, January 11th, 2013
Holiday Inn
6 p.m.
Join us for the most "fun" fundraiser you have ever attended! Celebrity Waiters are really fun people who graciously offer to dress as celebrities and to entice the guests at their table to "tip" them for their services -- which really means "give generously to the Safehouse cause."
Here's how it works:
Tables sell for $500 for a table of 8. Individual tickets are available as well for $70 each. As the purchase of the table, you get to decorate your table however you like and invite your guests to dress accordingly. Half of the fun is wandering around the room and taking in the spectacle of the decorations, costumes and the hilarious antics of the costumed party-goers! The room is abuzz with energy and excitement.
Each member of your table will receive $100 in play money because you "celebrity waiter" does nothing without a proper tip -- just like in real life! A waiter doesn't give good service without good financial incentive so you will tip the waiter for food, water, a chair, silver, etc. If you run out of play money for tipping, you can purchase more.
But here is where the fun begins. Your waiter is working to raise money for Safehouse and to win great prizes for him or herself. So, your waiter may accept tips to dance or sing… or who knows what else!
There is also a live and silent auction.
Here's how you can help:
1. Purchase a table and enjoy two bottles of wine.
2. Be a "celebrity waiter." Bring out your inner "Marilyn Monroe" or "Elvis," win prizes for yourself and raise money for Safehouse.
3. Donate auction items or items for prizes. Prizes are given to the top-tipped waiter, the top tipping table, and the best-dressed waiter.
For more information or to purchase tickets or a table, contact Sue Castaneda at 256-7406 or email scasta1630@yahoo.com.
---
Posted June 14, 2012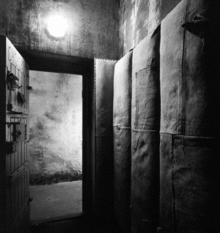 From A Padded Room
Sometimes it's wise to fear commitment!
Get Your Tickets Now!
June 29 & 30
Paramount Cafe

The year is 1851…

The largest Lunatic Asylum in the world is built in the city of London…

It houses 3500 "patients"…

In an age when a woman could be declared insane by her spouse, a disproportionate number of these "patients" are women…

This is their tragic and terrible tale!

Master Magician Aiden Sinclair Presents:
"From A Padded Room"
An Evening with the Haunts and History of Colney Hatch

Friday, June 29 and Saturday June, 30, 2012
Art Gallery of the Paramount Cafe
1607 Capitol Avenue
Show Times at 7:00PM and 9:00PM
Seating is limited to 25 patrons per show.

Proceeds benefit for the Battered Bride Project for Safehouse.
Click here to purchase tickets.
---
Posted April 24, 2012
Cheyenne's Oscar-Winning Documentary Filmmaker to Present Film
Proceeds to Benefit Safehouse
Cheyenne's own Oscar-winning documentary filmmaker, Daniel Junge, will presents his film titled "Saving Face," Saturday, May 19th at the Plains Hotel. Join us for a pre-reception beginning at 6:30 followed by a ten-minute film, also by Junge, titled "Women, Social Change and the Power of Film." Co-directed by Sharmeen Obaid-Chinoy of Pakistan, "Saving Face" tells the story of the many women who are victimized by brutal acid attacks in Pakistan. With little or no access to reconstructive surgery, survivors are physically and emotionally scarred. Many reported assailants, typically a husband or someone else close to the victim, receive minimal punishment from the state.
Plastic surgeon Dr. Mohammad Jawad left the prominence of his London practice to return to his home country and help the victims of such attacks. "Saving Face" chronicles the lives of Zakia and Rukhsana as they attempt to bring their assailants to justice and move on with their lives. The women are supported by NGOs, sympathetic policymakers, and skilled doctors, such as the Acid Survivors Foundation-Pakistan, Dr. Mohammad Jawad, attorney Ms. Sarkar Abbass who fights Zakia's case, and female politician Marvi Memon who advocates for new legislation. "Saving Face" follows their personal stories and that of the nation of Pakistan as it attempts to tackle this horrific social problem.
Tickets are just $25 and the proceeds benefit Safehouse. For more information, log onto CheyenneInternationalFilmFestival.com.
Other pertinent films include:
Bully
Call2ACTion with the Matthew Sheppard Foundation
Panel discussion and audience talk-back follows film
Directed by Lee Hirsch (USA)
This year, over 13 million American kids will be bullied at school, online, on the bus, at home, through their cell phones and on the streets of their towns, making it the most common form of violence young people in this country experience. BULLY is the first feature documentary film to show how we've all been affected by bullying, whether we've been victims, perpetrators or stood silent witness. The world we inhabit as adults begins on the playground. BULLY opens on the first day of school. For the more than 13 million kids who'll be bullied this year in the United States, it's a day filled with more anxiety and foreboding than excitement. As the sun rises and school busses across the country overflow with backpacks, brass instruments and the rambunctious sounds of raging hormones, this is a ride into the unknown. For a lot of kids, the only thing that's certain is that this year, like every other, bullying will be a big part of whatever meets them at their school's front doors. Every school in the U.S. is grappling with bullying-each day more than 160,000 kids across the country are absent because they're afraid of being bullied-but for many districts it's just one more problem that gets swept under the rug. BULLY is a character-driven film. At its heart are those with the most at stake and whose stories each represent a different facet of this crisis.
4:00 – 6:00pm
Long Stories Short: Relationships and Voices of Women
Static (2011 TRT: 11min)
Directed by Mel Miskell (Australia)
Sia has returned home in an emotional twilight, paralyzed by a secret she can't confront. When a friend from the past arrives through their reconnection she is able to find solace and equilibrium.
---
Twenty six "celebrities" came together recently to help raise nearly $30,000 for Safehouse at Celebrity Waiter Dinner 2012.
Mike Moser, Mayor "Pope" Rick Kaysen, Gov. Matt Mead, Bill Stafford
Marti and Randy Oestman as Mesmarelda and the Hunchback
Ashley Gollyhorn rocks Neyteri of Avatar
Michelle McMahon plays up Lucille Ball.
Jordan Castaneda dances the night away as Michael Jackson
Dave Glaser "Fred Flintstone" teases "Sandra Dee" Chelsea Thurin
---
Posted February 15, 2012
Cheyenne's own Daniel Junge, a filmmaker, has been nominated for an Oscar for his documentary short titled "Saving Face." The film is about Pakistani women who are disfigured by acid attacks, mostly carried out by their husbands and families.
http://www.huffingtonpost.com/robert-j-elisberg/oscars-2012-the-day-of-ma_b_1263269.html
---
Posted September 23, 2011
3rd Annual Safehouse Awareness Walk coming up on October 6th at 4pm at the Cheyenne Depot Plaza… Grab your heels and let's walk!
"Slut Walk" intends to protest victim-blaming, stop sexual violence
---
Posted September 14, 2011
University of Wyoming Crime Statistics Show Sexual Assaults Up
Recently, the University of Wyoming released figures showing that sex crimes have increased on the UW campus. Click here for the story.
Vice President Joe Biden says "Speak Up!" Click here for details.
---
Register Now for "Abuse in Later Life" Free training for service providers. Click here to get to the flyer and click here to register
---
2011 Celebrity Waiter Dinner a Huge Hit - Over $30,000 Raised!

Waiter Renee Hansen -
Mrs. Doubtfire is a "huge" hit!

Waiter Christine Cox "shakes down" guests Tammy Grant and Scott Walker.
---
Dickie and Marianne Shanor
Back row - Left to Right - Heath Brooks (Peyton Manning), Dr. Troy Thompson (Veterinarian with "animal" friends), City Councilwoman Georgia Broyles (Olivia Newton John), Brad Cave (Lurch), Domenic Bravo (Gladiator), Cowboy Bob (Cowboy Bob), Jim Wilkinson (Clint Westwood), Marty Luna ( County Coroner), Stacia Anderson (Swiss Miss Girl)
Front row - Left to Right - Christine Cox (Sexy Cop), Secretary of State Max Maxfield (Cat in the Hat), Kace Sanders (St. Pauli Girl), Brandi Nash - (Ms. Essence 2010), Jeff White (Elvis), Laurie Klassen (Princess Fergie), Stephanie Spier (Annie Oakley), Amy ? (Marilyn Monroe), Greg Williams (Superman), Mayor Rick Kaysen (Average Guy), Sue Castaneda (Event Coordinator and hillbilly), Allee Mowel (Perfect Waiter)
Our next Celebrity Waiter event is scheduled for Friday, January 6, 2012. For more information, contact Sue Castaneda - scasta1630@yahoo.com or call Safehouse at 634-8655.